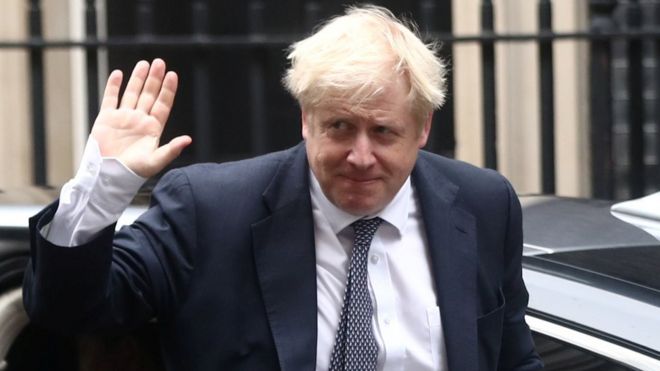 Downing Street has dismissed reports of disagreements within Boris Johnson's government over how to move forward with the Brexit process.
No 10 has indicated the PM will seek a snap poll if the EU proposes delaying the Brexit deadline until January.
However, some ministers are understood to want to focus on getting the PM's Withdrawal Agreement Bill through Parliament instead.
No 10 sources insisted there were no splits in the cabinet's strategy.
The question of how to move forward with Brexit follows Tuesday's key Commons votes, where MPs backed the prime minister's deal at its first Parliamentary hurdle but rejected his plans to fast-track the legislation.
That defeat effectively ended any realistic prospect of the UK leaving the bloc by 31 October – something Mr Johnson has repeatedly insisted would happen under his premiership.
In response, the prime minister announced he would pause the progress of his Withdrawal Agreement Bill while he waited to hear from the EU on whether they would grant a delay to Brexit and what length it should be.
However, there have been reports of divisions among ministers and senior No 10 advisers over whether to press for a December poll.
Dominic Cummings, Mr Johnson's chief adviser, is, according to the Sun, leading calls to abandon attempts to get the prime minister's deal through Parliament and go for an election.
But Northern Ireland Secretary Julian Smith is said to be among ministers arguing it is still possible to pass a bill ratifying the agreement.
On Wednesday, Mr Johnson met Jeremy Corbyn to discuss how to break the Brexit impasse.
The Labour leader was keen to discuss a different timetable for the Brexit bill, while the prime minister wanted to know what Mr Corbyn would do if the EU refused to grant an extension.
But nothing was agreed between the pair and no further talks have been planned.
No-deal preparations continue
Shadow business secretary Rebecca Long-Bailey told Radio 4's Today programme that Labour would vote for an early election if Mr Johnson pushes for one as soon as an extension is granted by the EU.
"That's our position. But we also want the prime minister to look at the compromise that's been offered that a lot of MPs support, and that's the ability to be able to properly scrutinise the bill," she added.
James Cleverly, Conservative Party chairman, told the Today programme the government was still preparing for a no-deal Brexit on 31 October.
"The EU has not agreed an extension and therefore it is absolutely essential that we prepare to leave," he said.
However, Labour MP Lisa Nandy said keeping to next week's deadline was "very unlikely".
The Wigan MP told the Today programme the "general consensus" in her party was that if the government wanted to propose a new schedule for the Commons to debate the bill, "five or six days" would be "sufficient".