Millions of Californians face having their power cut as firefighters continue to battle a surge in wildfires in the state.
Pacific Gas & Electric (PG&E) said it may have to turn off power in 36 counties amid forecasts of a "historic wind event", which it said could damage facilities and cause new fires.
The warning came as wildfires forced some 50,000 people from their homes.
A state of emergency has been declared in Los Angeles and Sonoma counties.
California's fire department says the state is experiencing "critical fire weather".Skip Twitter post by @CAL_FIRE
#RedFlagWarning in effect today through Monday throughout California due to gusty winds and low humidity. This is #CriticalFireWeather and caution should be used when outdoors.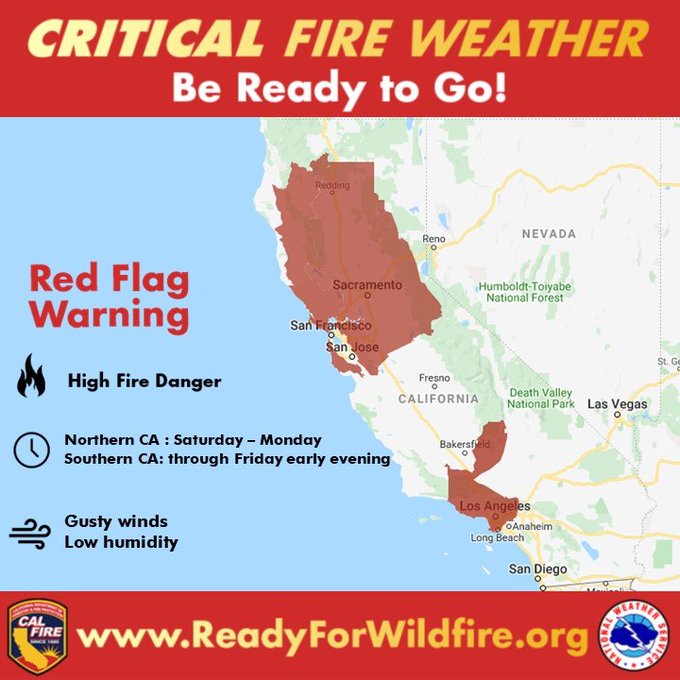 Commenting on the latest fire, Governor Gavin Newsom said on Friday that PG&E "simply did not do their job". He condemned "years and years of greed, years and years of mismanagement in the utilities".
What is PG&E telling Californians?
PG&E on Friday warned about 850,000 customers – whose households are estimated to contain about 2 million people – that they "may be impacted" by a power cut between Saturday evening and midday on Monday, citing forecasts of potential extreme weather.
"PG&E will need to turn off power for safety several hours before the potentially damaging winds arrive," the company said in a statement.
"The weather event could be the most powerful in California in decades."
The company said high winds "pose a higher risk of damage and sparks on the electric system and rapid wildfire spread", adding that vegetation was especially vulnerable to fire because it had been dried out by previous winds.
The warning from PG&E came as the company faced scrutiny over its possible role in the fires.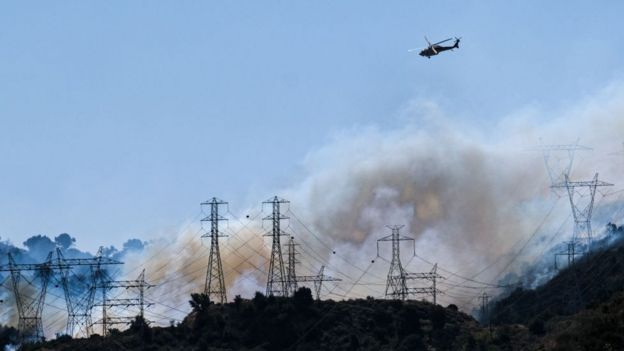 The company says the Kincade Fire that started in northern California on Wednesday began seven minutes after a nearby power line was damaged.
It has not yet confirmed whether the power glitch sparked the Kincade Fire.
The deadliest wildfire in the state's history – which killed 85 people in northern California in 2018 – was caused by PG&E power lines.