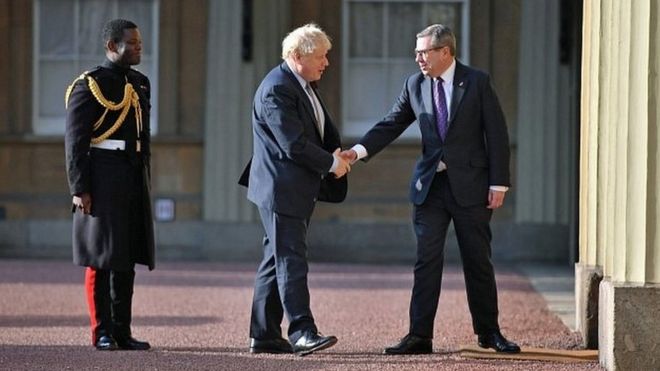 Boris Johnson says the Tories will get Brexit "over the line" if they win the general election and "unleash the country's potential".
In a statement outside No 10 marking the start of his campaign, Mr Johnson said if returned to power he would end the "paralysis" in Parliament and take the UK out of the EU in January.
A Labour victory would mean a "horror show" of further Brexit delay, he said.
But in a blow to the PM, Alun Cairns has resigned as Welsh secretary.
Mr Cairns quit the cabinet after claims he knew about a former aide's role in the "sabotage" of a rape trial.
The BBC's assistant political editor Norman Smith said while Mr Cairns was not a "big name" outside of Wales, his exit was a "major disruption" and Mr Johnson clearly "needed to get a grip" of a campaign that was "on the brink of disarray".
The resignation has compounded an already problematic start to the campaign for the party, which has seen two Tory candidates apologise for comments about victims of the Grenfell tragedy.
Party chairman James Cleverly said Jacob Rees-Mogg and Andrew Bridgen's remarks about the actions of Grenfell victims had "caused hurt and distress", telling BBC Breakfast: "We don't always get things right and when we get it wrong we apologise."
Elsewhere, as the starting pistol is fired on five weeks of official campaigning:
The Green Party has launched its campaign with a promise to invest £100bn a year on climate action for a decade
The Liberal Democrats have pledged to spend £2.2bn a year on mental health services, funded by a 1% rise to income tax
Tory MP Andrew Bridgen has apologised "unreservedly" for comments about the Grenfell Fire Tragedy
Welsh Secretary Alun Cairns resigned over claims he knew about a former aide's role in the "sabotage" of a rape trial
Labour's ruling body have not endorsed Chris Williamson, Stephen Hepburn and Roger Godsiff as candidates for the party
The prime minister met the Queen at Buckingham Palace on Wednesday morning, marking the official start of the election period in the run-up to the 12 December poll.
Speaking later outside Downing Street, Mr Johnson said he did not want to call the election but had been forced to act in the face of Parliament's efforts to block his "great Brexit deal".
If his "modern and compassionate" party won the election, he said he would take the UK out of the EU within six weeks, a move which would release a "flood of pent-up investment" in the economy.
In contrast, he said a Labour victory would result in another referendum and a second vote on Scottish independence.
"If I come back with a working majority, I will get Parliament working again," he said.
"Come with us and get Brexit done and take the country forward or spend the whole of 2020 in a horror show of dither and delay."