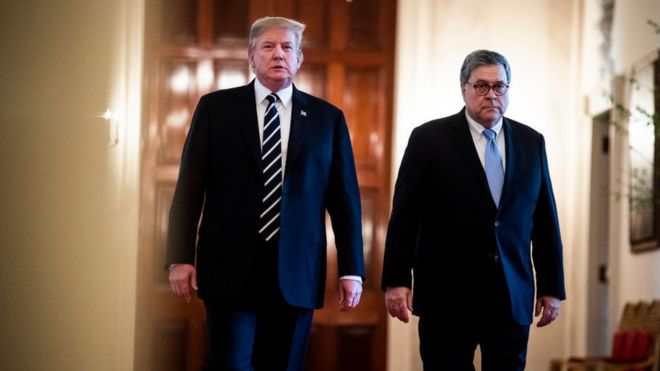 US President Donald Trump has denied asking the justice department to clear him of wrongdoing over a phone call with Ukraine's president that is at the heart of an impeachment inquiry.
Attorney General William Barr declined Mr Trump's request to clear him in a press conference.
The president has dismissed the reports as a "con job".
The Democratic-led inquiry hinges on whether Mr Trump pressured Ukraine on that call to investigate a rival.
Mr Trump denies using US military aid as a bargaining chip to prod Ukraine's President Volodymyr Zelensky into launching a corruption investigation against Democratic White House contender Joe Biden.
The US president, a Republican, has repeatedly insisted his call with Ukraine's leader was "perfect".
"The Justice Department already ruled that the call was good," Mr Trump wrote on Twitter on Thursday.
The president appeared to be referring to a statement issued by the Department of Justice in September, saying it had "reviewed the official record of the call and determined, based on the facts and applicable law, that there was no campaign finance violation and that no further action was warranted".
Mr Trump blasted the Washington Post, which broke the story, as "degenerate", though its report has since been confirmed by other US media, including the Wall Street Journal, New York Times and the BBC's US partner, CBS News.
House Democrats will hold the first public hearings in the impeachment inquiry next week.
One of the first to appear will be Bill Taylor, acting US ambassador to Ukraine.
Mr Taylor said in a private hearing last month it was his "clear understanding" that the president had withheld nearly $400m (£310m) in US military aid because he wanted Ukraine to investigate Mr Biden.
President Trump has claimed without evidence that Joe Biden used his position as US vice-president to quash an investigation into Ukrainian gas company Burisma. His son, Hunter Biden, worked for Burisma.
In August, an anonymous intelligence whistleblower wrote a letter expressing concern over the 25 July Trump-Zelensky call, which took place shortly after Mr Trump withheld military aid to Ukraine.