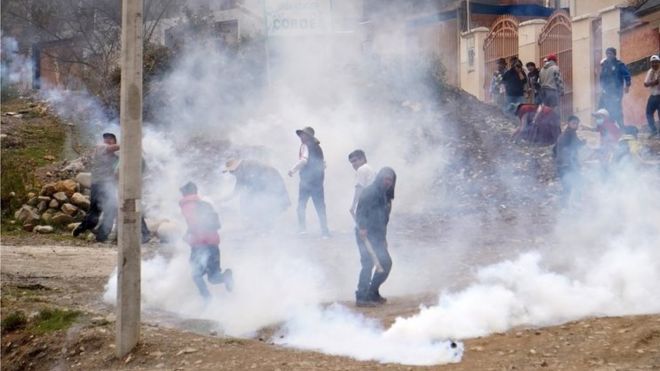 Evo Morales supporters fought running battles with police in La Paz
There have been clashes in Bolivia after the resignation of President Evo Morales following a disputed election.
At least 20 people were injured as Morales supporters battled with police in the cities of La Paz and El Alto, local media report.
Mr Morales, 60, accused the police of targeting peaceful protesters and urged Bolivians to resist the "dark powers" that had forced him to resign.
Others have been celebrating his departure after nearly 14 years.
Mr Morales, Bolivia's first indigenous leader, stepped down on Sunday after the head of the army publicly called on him to leave his post.
But he struck a defiant note on Twitter on Monday, saying that "the Bolivian people have never abandoned me and I will never abandon them". He has also said that he was the victim of a "civic coup".
The deputy head of the Senate said she would take over as interim president until new elections were held.
US President Donald Trump on Monday described the resignation of Mr Morales as "a significant moment for democracy in the Western Hemisphere".
In a statement, Mr Trump said the US "applauds the Bolivian people for demanding freedom and the Bolivian military for abiding by its oath to protect not just a single person, but Bolivia's constitution".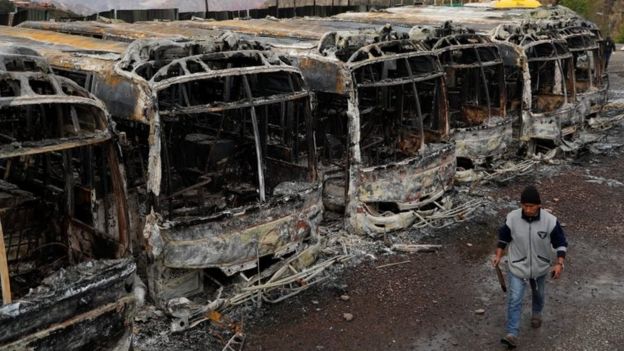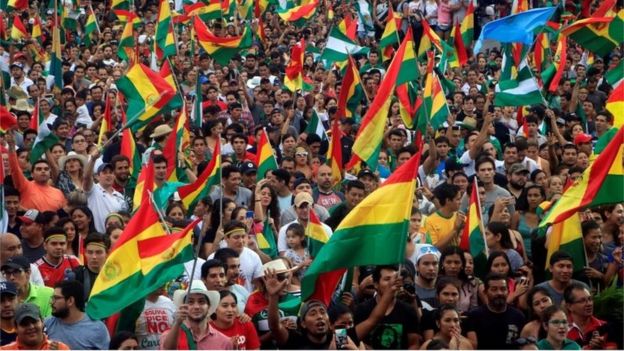 The Russian foreign ministry said "the wave of violence unleashed by the opposition didn't allow the presidential mandate of Evo Morales to be completed".
Mexican Foreign Minister Marcelo Ebrard said events in Bolivia constituted "a coup because the army requested the resignation of the president, and that violates the constitutional order of that country".
Mexico also offered asylum to Mr Morales but it is not yet known if he has accepted.
Mr Morales, a former coca farmer, was first elected in 2006. He has won plaudits for fighting poverty and improving Bolivia's economy but drew controversy by defying constitutional term limits to run for a fourth term in October's election, which is alleged to have been rife with irregularities.
Who's in charge?
That is not entirely clear at this point, adding to the volatile nature of the situation. The deputy leader of the Senate, Jeanine Áñez, said she would assume power as interim leader until elections were held.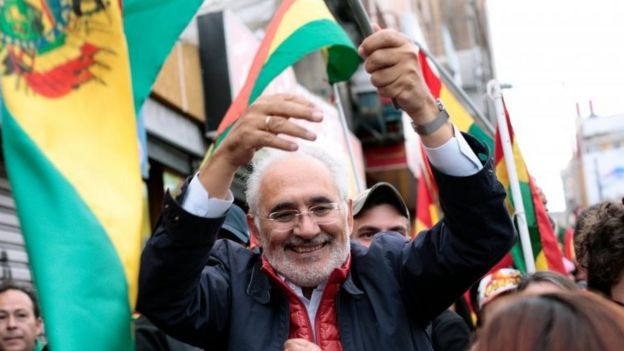 Ms Áñez made the announcement after Vice-President Álvaro García, Senate leader Adriana Salvatierra and House of Deputies' leader Victor Borda had all resigned, leaving her next in line to take over power temporarily.
"I assume this challenge with the only objective to call new elections," she said. "This is simply a transitional phase."
The opposition politician said she would convene the legislative assembly later on Monday to be confirmed as interim president.
But with Mr Morales' party in control of both the Senate and the House of Deputies it is not clear if she will get the necessary backing from legislators.
Under Bolivia's constitution, whoever takes over as interim president has 90 days to call fresh elections.