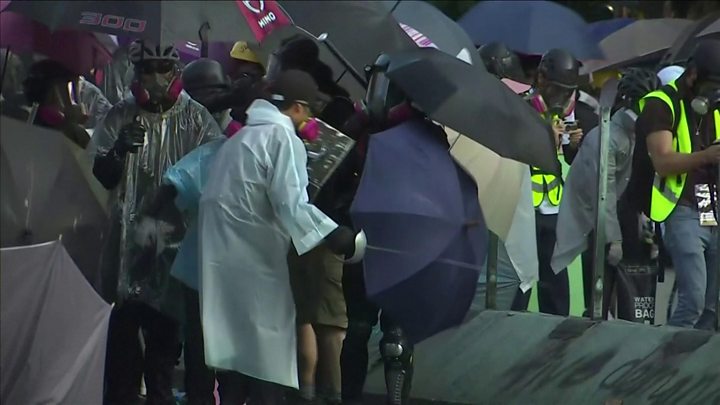 Police have besieged a university campus in Hong Kong occupied by protesters who have been fighting back with arrows and petrol bombs.
Officers have warned that they could use live ammunition if protesters do not stop attacking them using such weapons.
A media liaison officer was earlier wounded in the leg with an arrow near the Polytechnic University (PolyU).
Months of anti-government protests have caused turmoil in the city.
The latest violence is however some of the worst the semi-autonomous Chinese territory has seen since the movement began. The police have become targets for radical demonstrators, who accuse them of excessive force.
Police have so far been responding to violence around the PolyU campus mostly with tear gas and water cannon.
Those occupying the university have been told to leave immediately. Dozens have reportedly been arrested but hundreds remain inside. There are fears of bloodshed should police move in to quell what they have now declared a riot.Image captionThe officer was struck in the leg close to the Hong Kong Polytechnic University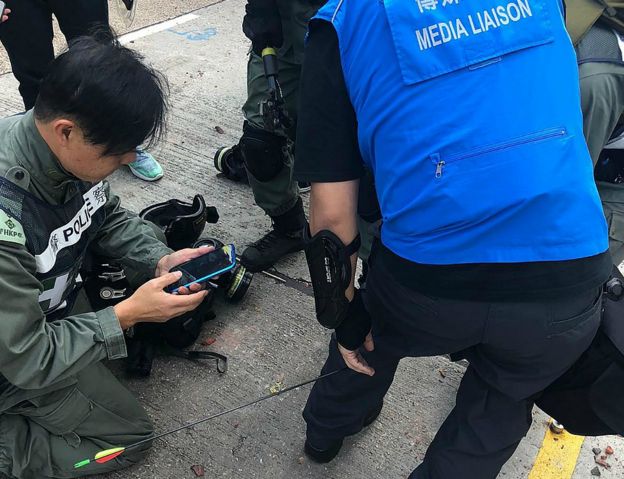 "I hereby warn rioters not to use petrol bombs, arrows, cars or any deadly weapons to attack police officers," police spokesman Louis Lau said in a statement broadcast via Facebook.
"If they continue such dangerous actions, we would have no choice but to use the minimum force necessary, including live rounds, to fire back."
Earlier on Sunday police fired a live round in response to what they said was a car hurtling towards officers near the university.