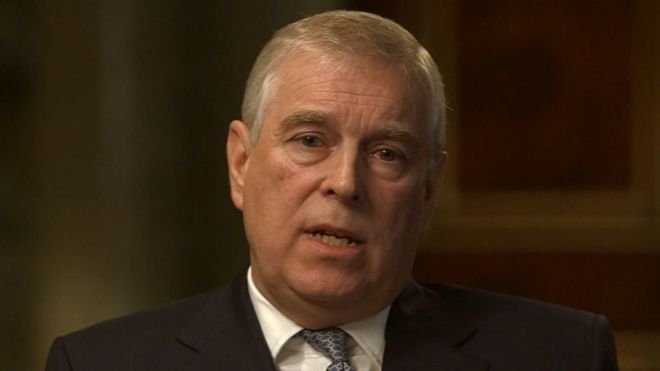 Standard Chartered has become the second corporate partner to sever ties with the Duke of York's business mentoring initiative, Pitch@Palace.
The bank joined accountancy firm KPMG in pulling support for the scheme.
It said it was not renewing its sponsorship for "commercial reasons".
Several businesses and universities are reviewing their association with Prince Andrew following a BBC interview about his links to convicted sex offender Jeffrey Epstein.
Sources have told the BBC the decisions by Standard Chartered and KPMG were made before the interview.
'Very serious questions'
Meanwhile, Boris Johnson and Jeremy Corbyn were asked about whether Prince Andrew was "fit for purpose" during their head-to-head debate on ITV on Tuesday evening.
The Labour leader said there were "very, very serious questions that must be answered and nobody should be above the law".
The prime minister said: "I think all our sympathies should be, obviously, with the victims of Jeffrey Epstein and the law must certainly take its course."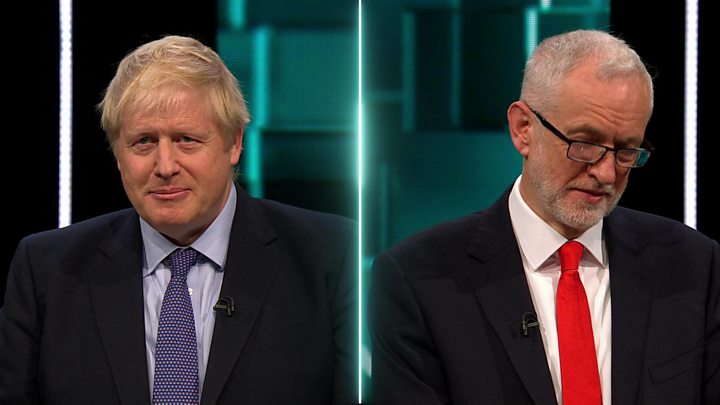 In his Newsnight interview, broadcast on Saturday, the Queen's third child said he still did not regret his friendship with US financier Epstein – who took his own life in August while awaiting trial on sex-trafficking charges in the US.
The interview has provoked a backlash, with businesses, charities and other institutions announcing that they were reviewing their association with the prince.
In addition to Standard Chartered and KPMG ending their support for Pitch@Palace:
Pharmaceuticals company AstraZeneca and Hult International Business School are reviewing their partnerships with the business scheme
Outward Bound, the charity the Duke of Edinburgh was patron of for 65 years, has called a board meeting to discuss the prince's patronage
London Metropolitan University said it will consider the prince's role as its patron, saying it "opposes all forms of discrimination, abuse and human trafficking"
University of Huddersfield students are calling for the prince to be sacked as their chancellor
On Monday, the Huddersfield students' union panel passed a motion to lobby the prince to resign as their chancellor.
The university has since said that it listens to its students' views and will "now be consulting with them over the coming weeks".
The duke has stood by his decision to speak out, after critics labelled the interview a "car crash".
But speaking on the BBC's Victoria Derbyshire programme on Tuesday, Huddersfield student Tristan Smith criticised the prince over his friendship with Epstein.
He accused Prince Andrew of "trying to dismiss" the row and failing to recognise Epstein's victims.
Meanwhile, a woman who has accused Epstein of sexually abusing her as a 15-year-old has urged Prince Andrew to share information about his former friend.
The accuser, identified as "Jane Doe 15", did not accuse Prince Andrew of any wrongdoing but called on him and others to come forward and give a statement under oath.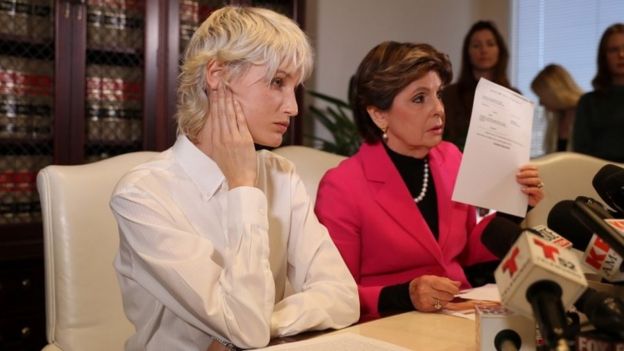 Elsewhere, former home secretary Jacqui Smith alleged that Prince Andrew made racist comments to her during a state dinner.
"I have to say the conversation left us slack-jawed with the things that he felt it was appropriate to say," she told the LBC election podcast.
And Rohan Silva, who was an adviser to former prime minister David Cameron, also accused the prince of using a racial slur in his presence.
A Buckingham Palace spokesman strenuously denied the claims, adding that Prince Andrew "does not tolerate racism in any form".