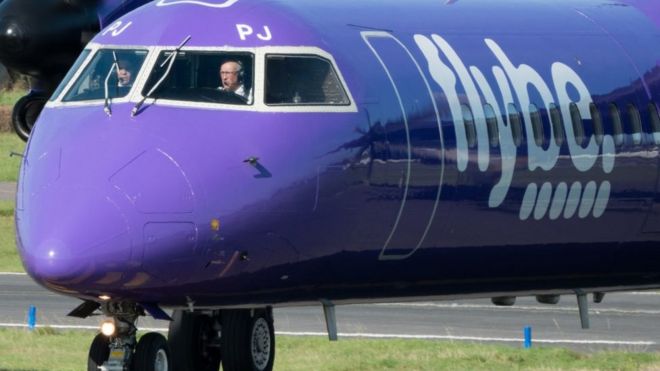 The government is to consider cutting air passenger duty on all domestic flights as part of a plan to save regional airline Flybe from collapse.
Chancellor Sajid Javid is to meet the business and transport departments later to discuss lowering the levy, the BBC's business editor says.
The change would allow Flybe to defer a tax bill, implement a rescue plan, and secure more than 2,000 jobs.
Flybe's network includes more than half of UK domestic flights outside London.
Tim Jeans, chairman of Cornwall Airport, said Flybe is "very important not just to our airport but to regions, to nations and to island communities across the UK".
"They provide lifeline services to destinations across the rest of the UK that simply are not replicated by either other airlines or convenient and affordable train services."
Brian Strutton, general secretary of pilots' union Balpa, said: "If Flybe didn't exist, it would have to be invented.
"The airline plays an incredibly important role connecting the regions and nations of the UK and onwards to Europe."
Regular Flybe passengers have expressed their concern, with many describing its routes as "vital".
Nick Lake, 39, who works for a property development company, said he uses Flybe at least once a week to fly between Manchester and Edinburgh and "would be devastated if they went under".
He said it would make his work life more difficult as the only other option is to travel by train which, he said, is "not particularly reliable".
Manifesto pledge
Improving connectivity outside of London was a key Conservative manifesto pledge and at least one of Flybe's routes, between Newquay and London, is subsidised by the government.
Sky News reported that the possible deal over air passenger duty could see Flybe defer a payment of more than £100m for three years.
By applying the move to the whole industry, the government would avoid breaching EU state aid rules.
It would potentially give the Exeter-based company time to set up a turnaround plan, financed by a consortium led by Virgin Atlantic which rescued the airline a year ago.
However, the proposal was instantly criticised by climate change campaigners.
'Shocking'
Doug Parr, chief scientist at environmental campaign group Greenpeace, said cutting air passenger duty would be "a shocking decision".
"They cannot claim to be a global leader on climate one day, then making the most carbon-intensive kind of travel – flying – cheaper the next.
Changes to air passenger duty could reduce the billions of pounds the charge generates for the government, which is expected to reach £3.7bn this financial year, according to Office for Budget Responsibility.
Former transport secretary and Labour peer Lord Adonis said that if the tax was cut, it was likely that general taxes would have to be raised to make up for the lost revenue.
"There may be a case for subsidising more routes. If they are vitally necessary there is a case for subsidising them… but not to give Virgin and BA a free lunch at the expense of the general tax payer," he said.
BBC business editor Simon Jack also said the move could create what Prime Minister Boris Johnson has previously described as a "moral hazard" – a dangerous precedent that would lead struggling companies to believe they could rely on the government to help them if they got into financial difficulties.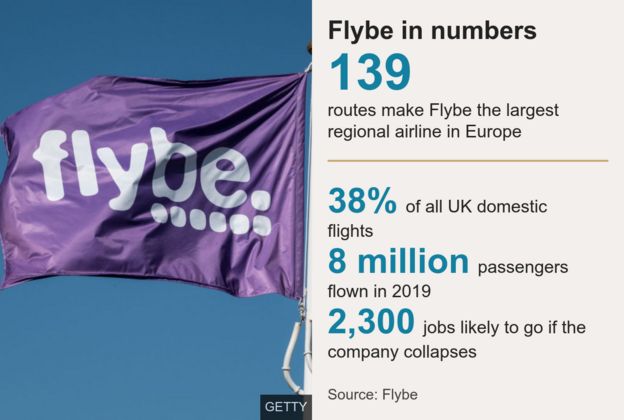 Air passenger duty (APD) is charged on all passenger flights from UK airports, excluding the Scottish Highlands and Islands region.
The amount depends on the destination and class of travel. Under current rules, passengers on domestic flights pay £13 in APD for a single journey, with higher rates for longer flights and premium cabins.
Flybe is a long-time critic of air passenger duty which it said disproportionately burdens its domestic customers because they have to pay it each time they take off from a UK airport.
The airline carries about eight million passengers a year from airports including Birmingham, Manchester, Southampton, Belfast City, Cardiff and Aberdeen, to the UK and Europe.
A group of local councils in Devon, where Flybe is headquartered, has said they support a change to air passenger duty to help secure Flybe's domestic services.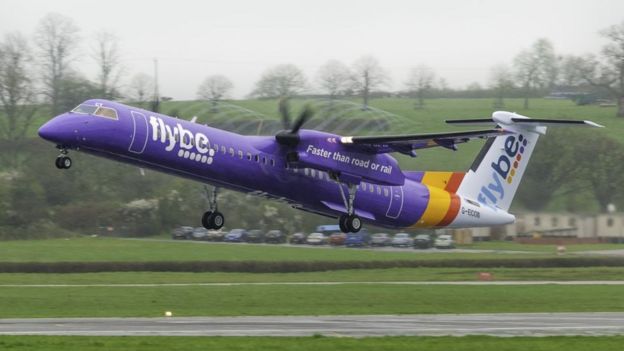 Flybe came close to collapse a year ago but was rescued by Virgin Atlantic, Southend Airport-owner Stobart Group and hedge fund Cyrus Capital Partners.
They paid £2.8m for the airline and agreed to invest £100m in the loss-making business.
Flybe has refused to comment on talks over a rescue.
Its chief executive Mark Anderson told staff on Monday the airline is continuing to operate as normal.
"I do appreciate that the headlines some of you have already read are disturbing but I want you to know that we are determined to do everything we can to make this work," he said.

Your rights

As long as Flybe carries on flying, there is no need to worry and certainly no reason to try to get your money back.
If the airline was to fail, however, all flights would most likely be cancelled. Those with paid-for bookings could find they lose their flights and their cash.
If your flight is part of a package deal covered by the ATOL scheme, then you should be protected and have the right to a re-booking or refund.
Otherwise you can try to retrieve the money from your credit card company, if that's how you paid. There is also a debit card chargeback scheme which can help.
Many travel insurance policies are not much use in these situations, unless you stumped up extra for the Scheduled Airline Failure option or something similar.
Those stuck overseas might be left hoping that the government will direct the CAA to step in, as it did when Monarch and Thomas Cook went under, to bring back stranded passengers for free.