A man has been shot dead by police in south London after he attacked people on a busy high street.
The attacker was under active police surveillance at the time of the incident, which police described as "terrorist-related".
Three people were injured, with one person in a life-threatening condition.
Gunshots were heard on Streatham High Road just after 14:00 GMT on Sunday. Reports suggest a man entered a shop and started stabbing people.
It appears he then left the shop and stabbed a woman, possibly a cyclist.
Witnesses reported hearing three gun shots and a man was seen lying on the floor, as armed police approached.
London Ambulance Service said it treated the three people for injuries at the scene and all were taken to hospital. Of the other two, one had minor injuries and the third person's condition was not life-threatening.
Police later said the scene had been "fully contained".
A large police cordon stretches from Streatham Hill station and there is a heavy police presence in the area; helicopters are overhead.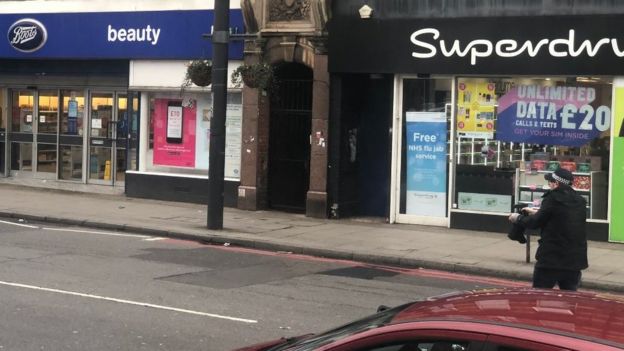 Eyewitness Emma, from Streatham, said she saw an injured woman lying in the street.
She said she was told by another woman that an attacker had pulled out a knife in a shop before leaving and stabbing the woman.
Another eyewitness told how he saw the shooting of the man take place in front of Boots pharmacy.
"I was crossing the road when I saw a man with a machete and silver canisters on his chest being chased by what I assume was an undercover police officer," he told the PA news agency.
"The man was then shot. I heard three gunshots."
Another eyewitness, Karker Tahir, said he then saw police approach the man, before telling people nearby to move back in case a bomb went off.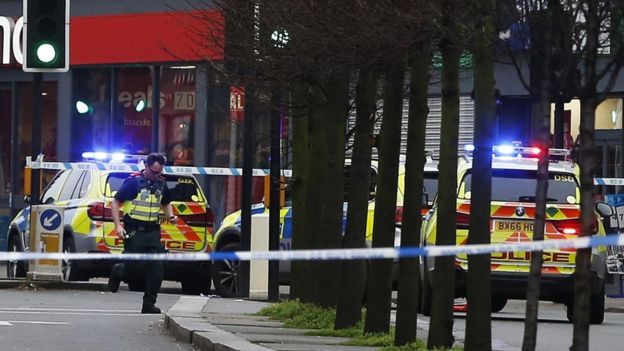 Eyewitness Daniel Gough said he was out for a run when he heard shots and everyone ran.
"There was panic, people were yelling," he said. "A young girl running alongside me kept asking 'Is this what I'm meant to do?' – she was very distressed.
"I saw a policeman and he yelled, telling everyone to get back. His gun was pointing in the direction of a man on the floor.
"Suddenly, more police appeared. There were [officers] everywhere".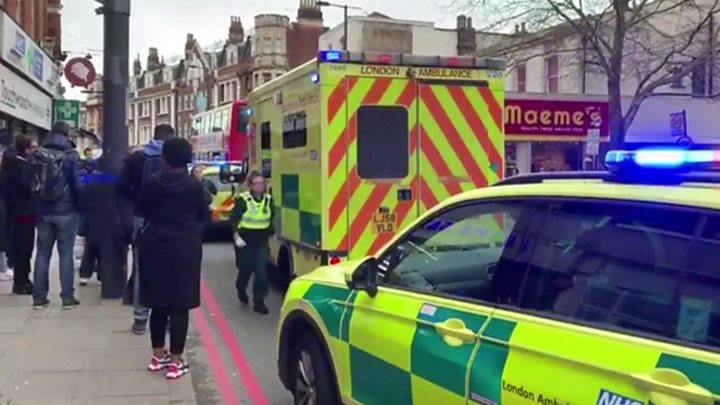 Adam Blake, who was nearby, described how he saw two or three cars crash into each other, including an unmarked police car, as the incident unfolded.
"Another police car carried on towards the hill pursuing someone," he told the BBC.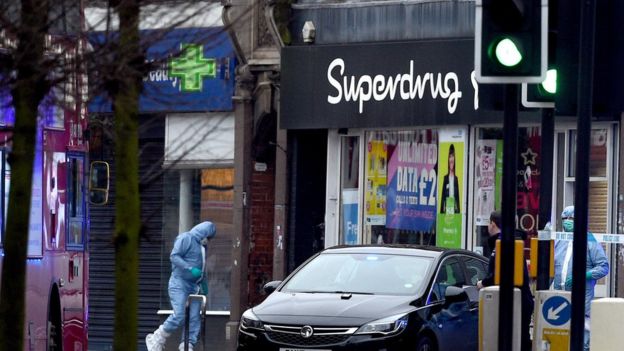 BBC journalist Steffan Powell, in Streatham, said armed police were everywhere and had been telling residents to stay inside.
Prime Minister Boris Johnson tweeted that his thoughts were with the injured and others affected. He thanked emergency services for their response.
Streatham's Labour MP Bell Ribeiro-Addy said her thoughts were with those injured, their families and those who witnessed the attack.
"Two individuals have been stabbed – one is quite seriously unwell," she told BBC News.
She said the police took down a man "who they had been watching for some time".
"It is scary, I feel that fear, but Streatham is a very resilient community and we'll be fine," she added.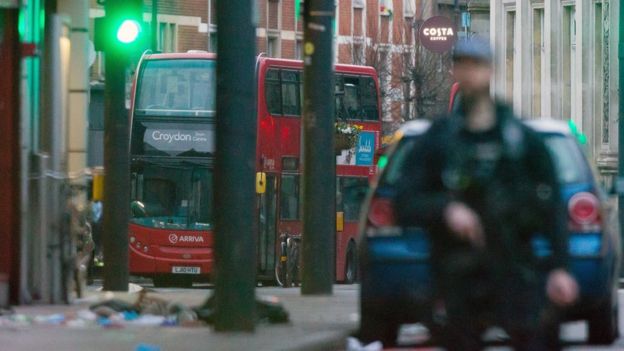 Mayor of London Sadiq Khan thanked emergency services for their "swift and courageous response", saying: "They truly are the best of us."
"Terrorists seek to divide us and to destroy our way of life – here in London we will never let them succeed."
Labour leader Jeremy Corbyn said his thoughts were with those affected and thanked emergency services "for their dedication and quick response".
Home Secretary Priti Patel said she was being kept updated by police.